Catering
Catering staff at the Ron Joyce Centre provide fresh, nutritious meals while working with you to create an outstanding experience for your guests. We promote local, organic, and healthy ingredients grown through sustainable practices to keep you and our environment healthy and happy.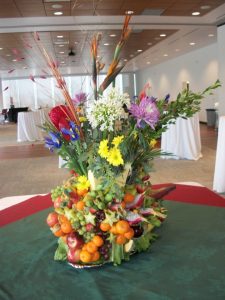 Exquisite dishes. We work with premium quality ingredients only.
Portion sizes. Our servings are quite generous and ensure 100% satisfaction to the guests.
Click here to view our catering menu
Click here to view our reception menu
Although our most popular menu selections are featured in this menu we pride ourselves on our ability to meet any custom requirements with style and creativity.
To book an event, or to arrange a personal consultation and tour of our facility, please contact:
Our onsite Event Coordinator:
Tel:  905-525-9140 Ext. 20534
Email: rjcbook@mcmaster.ca
Additional Services Available
Our event coordinator can arrange for enhanced options including custom menus, white glove service, special occasion liquor licenses, floral centrepieces, themed décor.
Looking for space and room booking information?
Bookings Contact
For further information, please email or call our onsite Event Coordinator
Tel:  905-525-9140 Ext. 20534
Email: rjcbook@mcmaster.ca